Browse:
Home
/
Press Room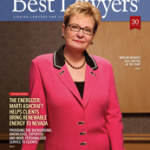 By Marti Ashcraft on October 16, 2014
I am pleased and proud to be recognized by the Best Lawyers publication as the Lawyer of the Year in Energy Law, and to be featured as the cover story for the Nevada Best Lawyers publication.  I think that the author of the cover story did a great job capturing the essence of my background, experience, philosophy and attitude.  I hope you will enjoy reading it.


Posted in Business Law, Energy Law, Press Room
By Marti Ashcraft on January 24, 2012
Marti Ashcraft has been invited to speak at UNLV's Renewable Energy Roundtable on February 7, 2012 from 5:30 to 7:30 p.m. at the UNLV Science and Engineering Building Auditorium (SEB 1131) to discuss renewable energy policy in Nevada and the United States.  Marti will be joined by Lydia Ball with the Clean Energy Project and Pete Konesky from the Nevada State Office of Energy.  The program will start with introductions and short presentations by each of the speakers, and then move to a roundtable format to discuss renewable energy policy issues.  The roundtable portion of the program will be moderated by Professor Bret Birdsong of the UNLV Boyd School of Law.  The general public is welcome to attend.
Posted in Press Room | Tagged renewable energy
By Marti Ashcraft on January 11, 2012
It is always nice to have good news to share. U.S. News Media Group and Best Lawyers® in America released the 2011-2012 "Best Lawyers" and "Best Law Firms" rankings. I have been named a Best Lawyer in America for Energy Law and the Law Office of Martha J. Ashcraft has been name a Best Law Firm for Commercial Litigation.
"The mission of Best Law Firms from the start has been to help guide referring lawyers and clients – from the country's largest companies need corporate legal advice to individuals needing to get a divorce or write a will – issue that have a bet-the company implication (in the case of a corporation) or a potentially life-changing result (in the case of an individual)."
"Best Lawyers® is the oldest and most respected peer-review publication in the legal profession. For over a quarter century, the company has helped lawyers and clients find legal counsel in distant jurisdictions or unfamiliar specialties. The 2012 edition of The Best Lawyers in America includes lawyers covering all 50 states and the District of Columbia and is based on more than 3.9 million detailed evaluations of lawyers by other lawyers. Best Lawyers® also publishes peer-reviewed listings of lawyers in nearly 70 other countries, covering many of the world's major legal markets. Best Lawyers® lists are excerpted in a wide range of general interest, business and legal publications worldwide, reaching an audience of more than 17 million readers."
Don't you want a Best Lawyer in America protecting your interests? Call me at 702-562-4010 or email me by using the Contact page.
Posted in Business Litigation, Energy Law, Press Room
By Marti Ashcraft on January 11, 2012
I am really excited to announce that I am featured in the first edition of CRAVE Las Vegas, the Urban Girl's Manifesto, the ultimate guide to women-owned businesses in Las Vegas. As stated by the CRAVE Company, "At CRAVE Las Vegas we believe in acknowledging, celebrating and passionately supporting local businesses. CRAVE Las Vegas is all about quality products and thoughtful service. CRAVE Las Vegas is more than a guidebook. It's a savvy, quality-of-lifestyle book devoted entirely to local businesses owned by women. . . . We'll introduce you to the inspired, dedicated women behind these exceptional enterprises, for whom creativity, quality, innovation and customer service are paramount."
I am very honored to be one of a select group of women-owned businesses chosen to be profiled in CRAVE Las Vegas because my law practice embodies the values and ideals CRAVE Las Vegas represent – quality, customer service, innovation and creativity. I have practiced law in Las Vegas for over 30 years, assisting businesses large and small with everything from business formation and organization, contracts of every type, and business disputes, as well as energy law matter. If you would like to learn more about how I may be able to help you, then call me at 702-562-4010 or email me using the Contact page. If you would like to learn more about CRAVE, go to the http://thecravecompany.com/lasvegas.
Posted in Press Room | Tagged las vegas, media