Browse:
Home
/
Business Law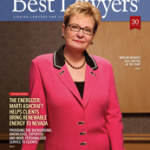 By Marti Ashcraft on October 16, 2014
I am pleased and proud to be recognized by the Best Lawyers publication as the Lawyer of the Year in Energy Law, and to be featured as the cover story for the Nevada Best Lawyers publication.  I think that the author of the cover story did a great job capturing the essence of my background, experience, philosophy and attitude.  I hope you will enjoy reading it.
Posted in Business Law, Energy Law, Press Room
By Marti Ashcraft on July 27, 2012
Because nearly 85% of Nevada land is owned by the federal government, the bureaucracy that is the Bureau of Land Management's ("BLM") maze of rules, regulations and processes has seriously hindered development of solar projects. The BLM process has been so time-consuming and expensive that most developers gave up or went broke. The news of the Department of the Interior's blueprint for a standardized Environmental Impact Statement is a huge step forward and hopefully will encourage more solar project development in Nevada on federal lands. Check out this article from Fox News Reno about this development. http://www.foxreno.com/news/news/state-regional/new-milestone-solar-energy-development-nevada/nP286/
Posted in Business Law
By Marti Ashcraft on March 11, 2012
Business acquisitions are complex transactions that can provide you with an opportunity to realize a good return on your investment or become a financial nightmare. To maximize the likelihood that you will close upon a deal that is right for you, you need to have an experienced business lawyer as part of your team. Because pre-printed forms and amateur advice are plentiful on the Internet, people may be tempted to believe that they can do it themselves. My first and most important advice to you is — don't!. The purchase of a business is not a "DIY" project and the consequences of trying to do so can be disastrous.
Posted in Business Law
By Marti Ashcraft on March 1, 2012
Customer lists can be an important asset for competitive advantage in many businesses – insurance, real estate, stock brokerage and financial advice – the list goes on. When a person decides to leave his firm and moves on to another opportunity, the customer list often becomes a bone of contention. The departing employee believes that he invested his time, effort and energy developing the customer list and the relationships that followed. The company feels confident that because the customer list was developed while the employee was on its payroll, the customer list is proprietary to the employer.
Posted in Business Law, Business Litigation
By Marti Ashcraft on February 15, 2012
Even when it seems like the subject matter is personal, such as renting a residence, Business Law 101 states that you still really do need a contract. I recently encountered an unfortunate example.
Posted in Business Law
By Marti Ashcraft on January 27, 2012
I can't tell you how many times clients have come into my office and said "I am starting a new business with my best friend [brother, sister, mother, cousin, etc.].  We have a great idea.  We share this vision.  We have a great relationship.  We are never going to have any problems about how to handle our business relationship.  We don't need a contract."
Posted in Business Law | Tagged agreement, business, contract, new business, start up